Information session to promote the Master's program in Cybersecurity of the Erasmus + LMPI Project
Written by : quantri - Post date : 01/10/2019
Information session to promote the Master's program in Cybersecurity of the Erasmus + LMPI Project
In the series of project activities, on 13th September, 2019, Project managers organized a session to promote the  Master's program in Cybersecurity of the Erasmus + LMPI Project at HCMUT.
The promotion aimed to share information with lecturers and students about a new training program within the framework of the approved LMPI project and began the enrollment in September 2019, introduce the project's center of excellence as well as the platform for the program of distance learning and lifelong training.
Attending the seminar were about 20 participants, who were leaders of the Faculty of Computer Science and Engineering, the Office of International Study Programs, the Office of Postgraduate Study, the External Relations Office, lecturers, and students of faculties. In particular, there was the presence of Professor Manuel Fernández Veiga, Vice Dean of School of Telecommunications Engineering of  University of  Vigo — the referent partner university in the project, together with the representatives from Hanoi University of Science and Technology (HUST) and Vietnam National University of Agriculture (VNUA).
The project's overview and its content were presented one after another by Dr. Le Thi Hong Hieu – the LMPI project coordinator. Assoc. Prof. Dr. Pham Tran Vu, the Academic Group Leader, contributed to the overall overview of the Master's program in CyberSecurity. Dr. Truong Tuan Anh, a lecturer in the Faculty of Computer Science and Engineering, presented details of the curriculum, subjects, credits and the importance of CyberSecurity in the industrial era 4.0. Besides, the issues related to enrollment regulations as well as useful information about the study fee were also mentioned by Dr. Truong Quang Vinh, Deputy Head the Office of International Study Programs in the seminar.
Prof. Manuel Fernández Veiga also took this opportunity to introduce to his Vietnamese partners and students the double degree of the training program of CyberSecurity between the Ho Chi Minh City University of Technology (HCMUT) and University of Vigo. This was also the foundation for students to have the opportunity to interact and experience an international learning environment and the value of a degree recognized according to European regulations. In addition, Prof. Manuel did not forget the information about scholarship for exchanged research students at University of Vigo within the framework of Erasmus + KA107.
The seminar has brought valuable information about the new training program as well as marked good results in the implementation of the project of the Ho Chi Minh University of Technology in particular and partner universities in general.
Here were some images
Dr. Le Thi Hong Hieu presented in the seminar
Assoc. Prof. Dr. Pham Tran Vu shared the overall information about the training program
Dr. Truong Tuan Anh presented details of  the program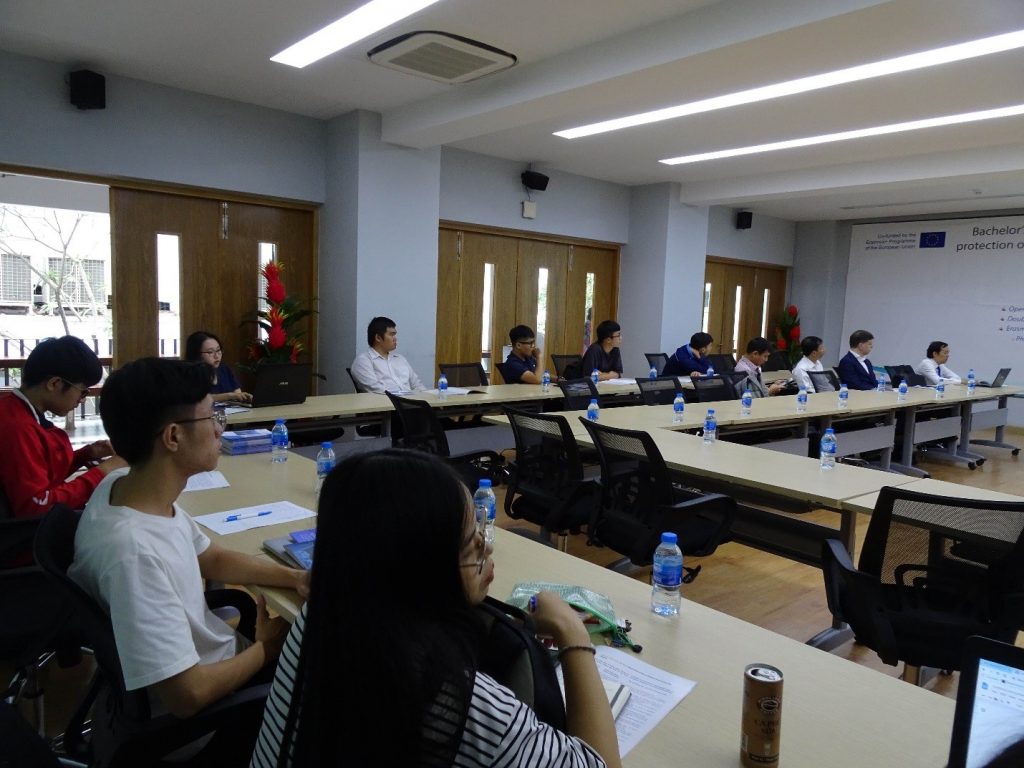 Students attended the information session
Dr. Truong Quang Vinh shared the information on enrollment regulations
Assoc. Prof.  Dr. Pham Tran Vu gave the souvenir and a certificate to Prof. Manuel
Lectures and students took photos as a souvenir
| | |
| --- | --- |
| | Online : 0 |
| | Today : 188 |
| | Tháng này : 3645 |
| | Total: 215471 |